Have your penis massage by young, beautiful, experienced masseuses with her hands, breast, feet or the whole body, get an extended prolonged orgasm with this special sensual skill…
A better Happy ending massage in London? This massage you are about to receive is not just a simple blowjob, it is a extended pleasure of erotic experience. At Cherry Touch, our female masseuses offer a nude happy ending as an extra bonus. This is a highly sensual and utterly sexual massage that strives to deliver complete and total satisfaction. Your session can be bespoke, taking into account your preferences and desires. Each experience can be different from the others. This is normally done with you being totally nude with the masseuse using her hands to provide you with a full body massage. She would normally start at the head, move down to the shoulders, and then focus on your genital area.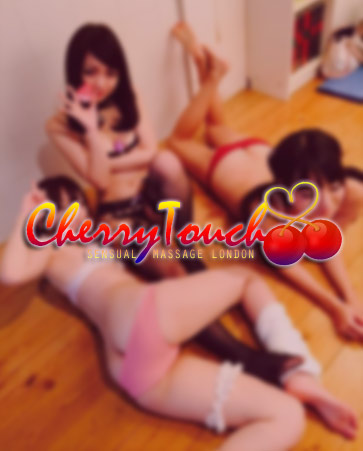 Our cherries provide a wonderful penis massage with happy ending.
The Lingam Massage
Lingam massage is a tantra style massage which often referred to as happy ending massages in London. In Tantra, the lingam is the male penis which in Sanskrit can be translated as 'Wand of Light.' And it is with this wand that our sexy Cherries will perform their special sensual skills. The skill of soft, sensuous touch, tease and more…Can't say much, just enjoy…It will be a real bliss.
London Sensual Massage with Happy ending
You will enjoy complete sexual arousal culminating in an orgasm. However if your desire is to just lie down and be relaxed, while getting your full body massage, this is totally acceptable. Just let us know what you want so that we can arouse your senses and release your pent-up sexual energy using a sensual yet gentle touch. If you want to schedule a Happy Ending Massage at Cherry Touch in London, we ask that you call several days in advance so that you can meet your masseur or masseuse in person before your session. Once you have your appointment, you will be in for an unforgettable experience!
* If you have some special requirement in mind, feel free to call and ask our lovely manager.