A four hand massage is a kind of Sensual massage. As the name implies, this massage is performed using four hands. Apparently, no therapist is blessed with four hands, thus it means that this massage is performed by a pair of Cherry touch's sexy therapists. In general, these therapists will massage the body of the client simultaneously, using their four hands.
Four Hands Massage London
Imagine 2 sexy female massage therapists play around your body, using their hands and body to give you a full body nude massage, it is a challenge of sensuous and a ultra blissful pleasure. You can choose two specific girls you like or we could arrange two best massage queens available for you.
About the 4 hands massage
The Four hand massage, just like any other massage forms, gives the most important benefit- the relaxation. This relaxation bears a great potential for leading you to other benefits, such as it reduces mental stress-which can lead to further body pains and/or illnesses. This form of massage also provides healing benefits, because it increases the volume of blood flow which will then lead to the proper circulation of the blood in the entire body. You might compare this form of massage to other forms of regular massage. Well, it all depends on the benefits that you want to experience from this massage. If you are having a hard time which massage you will choose, it is recommended that you go for the four hand massage. It is because this massage carries more benefits in comparison to the classic massage. Though you may obtain the same result, but the time on how long you will experience the result varies. In this form of massage, you can experience the relaxation as well as the pain relief more quickly since this massage is done by two therapists.
Moreover, in four hand massage, you are guaranteed that you will be provided with a great experience for massage. Knowing that there are two therapists who will do the massage on your body, you can expect for a more relaxing feeling twice of what a regular or classic therapist can do. During the process of the massage, hands of each therapist will take the synchronous movement. That is to say that if hands of one therapist are on the upper part of your body, hands of the other therapist are on the lower part. Hence, your body will receive a more satisfying massage. Similarly, if hands of one therapist are doing the massage on your left shoulder, hands of the other therapist are on your right shoulder.
Another benefit that can be given to you by this massage is that it is essential for the healing of mind and body. If you went through a lot of stresses these past few days, you can expect that you will have the total rejuvenation if you will choose this form of massage.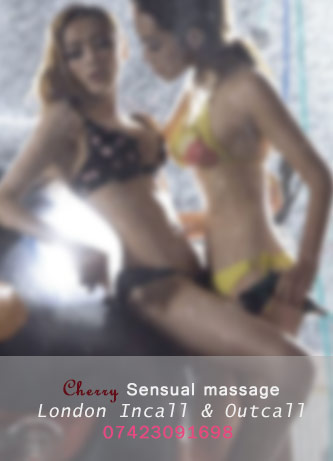 Cherry four hand massage offers the major benefits such as the following:
1. A pair of female massage therapists for a "doubled massage" in just one session.
2. Great reduction of muscle problems such pain and tension in the muscles.
3. The use of synchronized technique that is very ideal for providing great relaxation.
4. Amazing discreet bliss experience
So if you want a more relaxing and soothing massage choose four hand massage and let yourself be overwhelmed and rejuvenated by this massage.
Book a 4hands massage with Cherry
Tel: 07423091698
Email: londonorientaltouch@gmail.com
Opening time: Daily 10:00 am to 3:00 am
Addresses (for incall):
Outcall Massage: To All London Major hotels as well as the Heathrow Hotel
Note: for 4hands massage, you will get two girls – you can choose two specific girls or we could arrange for you.
Please allow us at least 1 hour for processing your appointment.